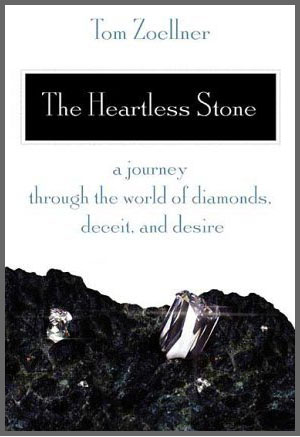 The critically acclaimed investigation into the global diamond trade
The Heartless Stone unmasks the fascinating history behind America's favorite gemstone. Tom Zoellner takes you on an unforgettable journey through six continents — from the deadly mines and smuggling rings of Africa to mining camps above the Arctic Circle to India's polishing mills where teenage children cut stones that eventually find their way to the shopping malls of America.
How did this relatively common mineral come to signify love and eternal promises? Why are diamonds so unnaturally expensive -- yet so coveted? Why do so many risk their lives and integrity to acquire them? The answers will surprise, intrigue and disturb you, as Zoellner looks into his own powerful fascination with the diamond ring left behind from his broken engagement. The Heartless Stone goes beyond investigative reporting and explores the complicated regions of the human heart that make the diamond empire possible.
Praise for The Heartless Stone:
"A dazzling display of intrepid reporting."
—Entertainment Weekly
"An illuminating expose of a mineral and an industry."
—Wall Street Journal
"An exhaustively researched and beautifully written work of narrative nonfiction."
—The Atlanta Journal-Constitution
"The author is expert with vivid prose…This is a superior piece of reportage."
—Publishers Weekly (Starred review)
"Lives up in every way to the power of its almost magical subject….With on-the-spot reporting from each of these locales and detailed portraits of individuals whose lives have been shaped by the quest for and business of diamonds, Zoellner follows a tortured trail all the way to the ring finger of an expectant bride. En route, he offers fascinating details about the geology, craftsmanship, advertising, economics and politics surrounding the gem."
—Kirkus (Starred review)
"A thoroughly engrossing and admirable piece of journalism. Part investigative reporting, part 'extreme' travelogue, it reveals through vivid details of geology, artistry, marketing, economics and politics, how diamond lust has changed cultures and societies forever."
—Albuquerque Journal
Read an excerpt: