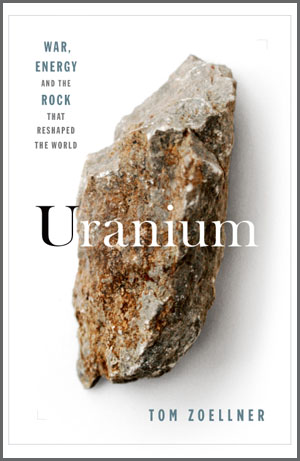 The untold story behind the rock that threatens to change the world
The stability of our world rests on a substance that is unstable at the core. This is the fundamental paradox of uranium, the strongest element the earth can yield, and one whose story is a fascinating window into the valor, greed, genius and folly of humanity.
Uranium is a riveting journey to the heart of this eerie mineral, taking us from slave camps in Africa, to desert mesas, war councils, smugglers' routes, doomsday cults, jungle mines and secret enrichment plants over five continents in a narrative that is equal parts history, investigative journalism and nonfiction thriller.
Through its seventy year arc through history, uranium has behaved like a character from a Greek tragedy, changing its face almost as quickly as it sheds neutrons. First a nuisance to miners in the Middle Ages, then an inspiration to novelists and a heroic role at the end of World War II; eventually a polluter; a killer; a waster of money; an enabler of failed states, an excuse for a war with Iraq; and now both the potential deliverer of Armageddon and a possible last defense against global warming.
Revealed in this book:
How the U.S. controlled a secret mine deep in the heart of Africa
That a Nazi sub escaped Germany with the remnants of Hitler's bomb project.
The real reason Iran wants a nuclear weapon.
The original inspirer of the atomic bomb was H.G. Wells.
How bomb grade uranium is smuggled through the Caucus Mountains.
The story of America's frenzied uranium rush in the 1950s
Why Saddam Hussein's supposed attempt to buy uranium from Niger was a physical impossibility.
Details from the top-secret Israeli nuclear program.
The story of Pakistan's master spy-engineer who spearheaded the construction of "The Islamic Bomb."
How a European luxury spa was turned into a prison camp for uranium mining.
Endnotes:
Read an excerpt: